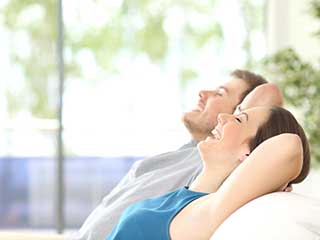 What is it All About?
Ideally the air quality inside your home should generally be much better than what's outside, but this isn't always the case if dust and otherwise is able to pollute the air of your home. Low air quality causes severe allergy symptoms to bother you indoors, aggravates breathing conditions such as asthma, and has a negative effect on children and the elderly as well. Even those who are otherwise healthy will still suffer fatigue from poor air.
Air Quality Tests
If you'd like to know exactly how good or poor your home's air quality is, we can help! We'll test to see just what exactly is present in your home's air, and it will help focus how to improve it if necessary. It can warn if there's mold spores present, if there's too much of certain chemicals like rodent poison, and much more. It's a great first step to getting your home's air in far better condition.
Get Those Dirty Ducts Cleaned
The air ducts of your home are the biggest source of trouble when it comes to your air being contaminated. Dust and dirt get trapped in them and build over time, making it easy for the air to pick up particles along the way which drastically lowers the quality. It also is a waste of energy spending as well, thanks to slowing down the rate of air flow as it struggles to get around clogs! Our professionals can quickly and safely get them cleared out completely to make your air clearer, and home more energy efficient as well!
We Take Care Of Vents Too!
Vents are bound to get wads of material trapped in the slats over time, and this also lowers the quality of your home's air as well as drains your energy! One of our experts would be happy to come out and get them pristine again in no time.
Why Wait Any Longer?
Contact Air Duct Cleaning Baytown today and let us help you and your family breathe easy again!