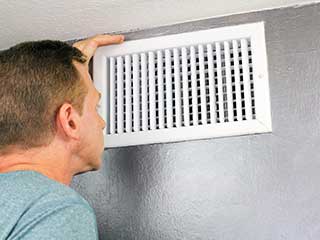 At Air Duct Cleaning Baytown, all of our highly trained and professional technicians are here to ensure that the air ducts and vents in your home or office are cleaned to perfection, and properly sanitized so that you can enjoy clean, fresh air that is free from contaminants and dirt. Our team of experienced technicians offers mold removal and sanitation on air vents and dryer ducts. So, call us today for assistance with keeping your living and working areas free from dirt and harmful contaminants while ensuring that your ventilation systems are always effective and safe to use. Here are some of our services that you can take advantage of today.
Indoor Air Quality Testing
Determining whether or not your ventilation ducts need cleaning can be done simply with the assistance of a technician. With our help, you can have the air quality of your indoor spaces at home or the office tested for contaminants. This will give you a better idea of just how bogged down your ducts are, so that you can decide whether or not it would be beneficial to have them sanitized by one of our technicians. Call us now to have the indoor air quality of your home or business tested by a member of our team.
Duct and Air Vent Cleaning
Since ducts and vents are responsible for circulating air through your indoor spaces, it stands to reason that a dirty duct will push contaminants throughout all of your living and working spaces. For this reason, it is a good idea to have your air vents cleaned on a regular basis, to make sure that excess dirt doesn't spread throughout your home or office. A cleaned vent will also perform better, since no debris is blocking its flow of air. So, speak to us today to get your vents and ducts cleaned professionally.
Removing Mold from Your Vents
The presence of mold in air vents can lead to various respiratory ailments and allergies. However, when their spores take root in your ducts, it can be exceptionally difficult to eradicate the problem without professional help. Speak to one of our technicians today for more information on how we can assist you with removing mold from your vents, so that you can enjoy higher levels of air quality in your indoor spaces.
Call Us Now for Assistance You Can Count On
If you are in need of effective and professionally conducted air duct cleaning, speak to one of our consultants at Air Duct Cleaning Baytown for more information on the assistance that we can provide. We are waiting for your call.