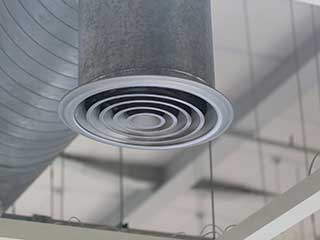 Why Get Your Air Duct Cleaned?
If the air duct at your place of work isn't regularly cleared out, you could be losing money on wasted energy; as well as be losing productivity from workers who are run down from the poor air quality.
The duct sucks in air to use for heat, AC, and general ventilation year-round. However, it also draws in all kinds of dirt, allergens, and other substances that build up over time. This may not sound like a big deal, but if left unattended this can lead to pounds of materials blocking up over time.
These blockages can even grow mold and harmful bacteria, as well as cause you to spend more on energy. To force air through the congested duct, more energy must be used, which costs you money in the long run.
These materials also contaminate the air that gets distributed all over the building for you and your coworkers to breathe in. In general, this can cause fatigue and allergies to flair, lowering work output. More specifically, if any of your coworkers have asthma, are older, or have any other breathing disorders, poor air quality can be hazardous to their health. Don't worry! That's where we come in.
Let Us Take Care of It!
With years of experience when it comes to cleaning air ducts for businesses, you can trust that we can get to work on yours quickly and be out of your hair ASAP. We know that distractions don't help in the work place either, but we can the job done quickly without sacrificing excellence.
We use agitators to loosen up the dirt and then suck it away with our high-performance vacuums. This is extremely important; otherwise the dislodged dust would wind up all falling into your workplace. That's the opposite of what you want! With our trained technicians, you can be sure that we'll get your ducts acting like new again quickly and safely, and you'll be breathing fresher air in no time.
Don't Wait Any Longer!
The more you put it off, the more money you're losing from energy costs and low work output! Contact us today, and we'll help you find the perfect time for us to come out and get to work. You'll be glad you did once you see what a difference it makes!