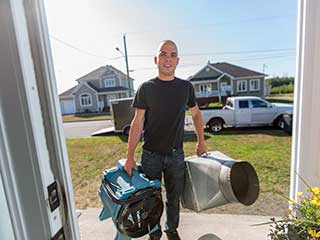 The Importance Of A Clean Duct
It may seem like a relatively low candidate on your list of pressing projects to get done around the home, but you may want to reconsider. When air is sucked in to your air duct for use in air conditioning or heating, other materials are pulled in as well. Things like dust and dirt start to pile up after a while, and this slows down the air flow through it. Your heating and air conditioning will be running longer to compensate, and that will be wasting your energy and money as well. Health is also at risk with grimy ducts, as the substances stuck inside will pollute the air as it passes through. This drastically lowers the air quality of the household, especially the longer it's allowed to go on.
Signs It Needs Cleaning
If you notice that your energy bill is steadily rising every month and are otherwise uncertain as to why, the problem may be due to your heater and air conditioning running longer as previously mentioned. This is especially possible if you also are aware of temperature fluctuations in certain rooms. It's important to pay attention to the health of you and anyone else in the home as well. Those with breathing conditions like asthma will certainly be negatively affected by poor air quality, as will children and the elderly. Should your asthma continue to bother you even indoors, that's another indication that there's an issue.
We're Here To Help You
Our professionals use only the best equipment available in order to clear out your ducts completely and safely, with no risk of knocking up more dust into the air and worsening the quality. We'll have it done quickly, and it will last you a while as well! That's the kind of thorough and excellent service you get when you hire a team with experience like ours.
Don't Wait Any Longer
Contact Air Duct Cleaning Baytown now so we can get to work making your home's air fresh again and cutting those energy costs! You won't regret it.